Why Dr. Hoody endorses this recipe:
Asparagus is one of the most nutritionally balanced vegetables. It is reputed to be an aphrodisiac, and is especially high in folic acid and potassium. Combine that with salt, needed during the warm weather, and the antioxidant and anti-inflammatory properties of olive oil, this is a wonderful summer dish. 
Looking for a low calorie healthy green, and a great source of nutrients, including fiber, folate and vitamins A, C and K to side to serve with dinner? Try asparagus! Eating asparagus has a number of potential health benefits, including weight loss, improved digestions and lowering blood pressure.
One of the easiest ways to incorporate asparagus into your diet is to fire up the barbecue and make grilled asparagus. It's seasoned with just 3 ingredients; olive oil, salt, and pepper. Searing the vegetable on hot barbecue grates makes charred spears with a smoky flavor and lightly crisp edges. Served with roasted lemon for a bright citrus taste.
Prep Time: 5 minutes
Cook Time: 7 minutes
Makes 4 servings
Calories: 42 per serving
Prep
Rinse the spears under cool water to remove any grit. Snap off the bottom inch or so using your fingers; the stems will naturally break where the tough woody part ends and the tender stem begins. Dry the spears well by rolling them between two kitchen towels. The dryer the stems the easier to sear.  
Ingredients
1pounds asparagus spears, select larger sized stems
1 tablespoon extra-virgin olive oil
⅛ teaspoon kosher salt
Pinch of black pepper
1 lemon, cut in half
 Instructions
Trim the tough ends off of the asparagus.
Coat the spears with olive oil, salt, and pepper.
Preheat the grill over medium-high heat.
Add the asparagus on the grill so it does not fall through the grates.
Add halved lemons to the grill.
Cover and cook for 3 minutes.
Flip over and cook uncovered for 2 to 4 minutes.
Serve grilled asparagus with roasted lemon.
Cover for the first few minutes to efficiently cook the interior, then flip over to get the last bits of sear on the other side. Make sure to reduce the cook times if using smaller sized spears.
Notes and Tips
To nail the charred outside of the asparagus without becoming mushy, the key is to make sure the grill is preheated and the asparagus is thoroughly dried after rinsing. A medium-high heat around 350 to 400ºF (177 to 204ºC) will ensure the characteristic brown lines, as long as you don't move them.
Compliment with roasted lemons
The beauty of this dish is that lemons are a delicate built-in sauce to accompany the asparagus. The lemons roast and brown at the same time on the hot grill, mellowing out the tartness.
Happy cooking!
courtesy of https://www.healthline.com/nutrition/asparagus-benefits/) and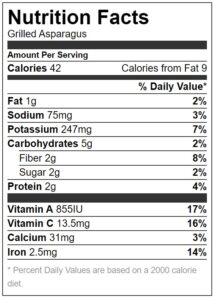 * Percent Daily Values are based on a 2000 calorie diet.