Strawberry Spinach with Pecans, Feta and Poppy Seed Salad Dressing is quick, easy and healthy.  Made with just 5 ingredients, it comes together in minutes.
Why Dr. Hoody endorses this recipe:
Now, this is a true summer delight. Strawberries and spinach are a classic together.  Spinach is low in carbs and a nutrient-rich vegetable and contains potassium, magnesium, calcium, iron, folic acid and vitamins A, C and K1. It can decrease your blood sugar, blood pressure, and inhibit cancer and is a potent anti-inflammatory. Strawberries are also high in vitamins C and potassium, and can help prevent heart disease and can lower blood sugar. Pecans are the necessary crunchy element and that no good salad should be without.  Pecans are also a good of calcium, magnesium, potassium and contain protein and the healthy monounsaturated fats which can lower blood pressure.  Not into pecans?  Try swapping them out with slivered almonds or chopped walnuts. And goat feta cheese is low-fat. And if you use Cathy's Gluten Free Poppy Seed Dressing, its Free from refined sugars.  Healthy, beautiful and always a crowd pleaser!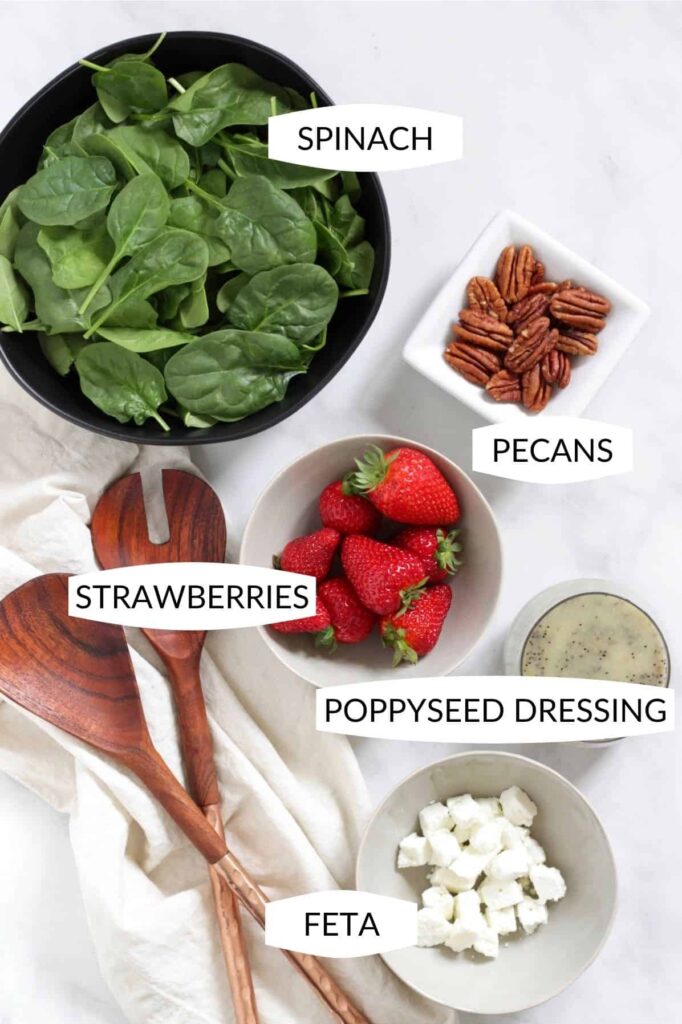 Ingredients
2 ounces of fresh baby spinach
8 strawberries hulled and sliced in half
1 ounce of pecan halves
2 ounces goat feta cheese (cow goat cheese can substitute)
2 tablespoons of Poppy Seed Dressing
Instructions
Layer spinach, strawberries, pecans and goat feta cheese into a serving bowl or plate
Drizzle the Poppy Seed dressing over the salad and serve!
Courtesy Cathy's Gluten Free